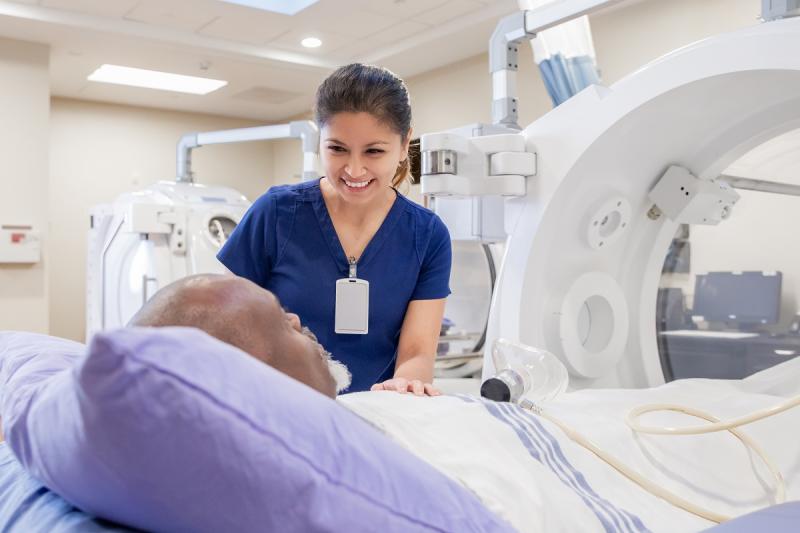 Specialized Solutions to Heal Chronic Wounds
When you have a wound that won't heal, you deserve the expertise of a team that uses the latest innovations in wound care while keeping your whole health in mind. At the UChicago Medicine AdventHealth Wound Care Center in La Grange, we deliver advanced treatments for chronic and non-healing wounds that help most patients heal within 12 to 18 weeks.
Our multidisciplinary team of physicians, podiatrists, advanced practice nurses and registered nurses will work collaboratively with you, your family and your primary care physician at every step. With a full range of services — including oxygen therapy in a hyperbaric chamber — we're committed to helping you heal.
La Grange's Home for Leading-Edge Wound Care
We know chronic wounds can be resistant to many treatments and can remain non-healing for months or even years. Non-healing wounds can take a toll on the physical, mental and emotional health of you and those who care for you. That's why we combine best practices and innovative treatments with a focus on whole-person care. We happily will take on the most challenging wounds. we are dedicated to helping each patient find relief.
6 items. To interact with these items, press Control-Option-Shift-Right Arrow
Hyperbaric Oxygen Therapy (HBOT)

Healing Care Plans and Treatments

Wellness and Prevention Services

Wound Care That Exceeds National Benchmarks
Wound Care Specialists Dedicated to You
Whether you've struggled with a non-healing wound for days, months or even years, we'll help you on your road to wellness. Our experts have completed advanced training in wound care and hyperbaric oxygen therapy and will create a treatment plan that meets your needs and lifts your spirits.
9 items. To interact with these items, press Control-Option-Shift-Right Arrow. These items are in a slider. To advance slider forward, press Shift-Command-Right Arrow. To advance slider backward, press Shift-Command-Left Arrow.
Start Here to Begin Healing
With leading-edge treatments and experienced wound care experts all close to home in La Grange, there's no reason to live with a chronic wound. Take the first step toward feeling whole again and call to schedule an appointment with our team today.
Expert Wound Care Near You
UChicago Medicine AdventHealth Medical Group Wound Care at La Grange