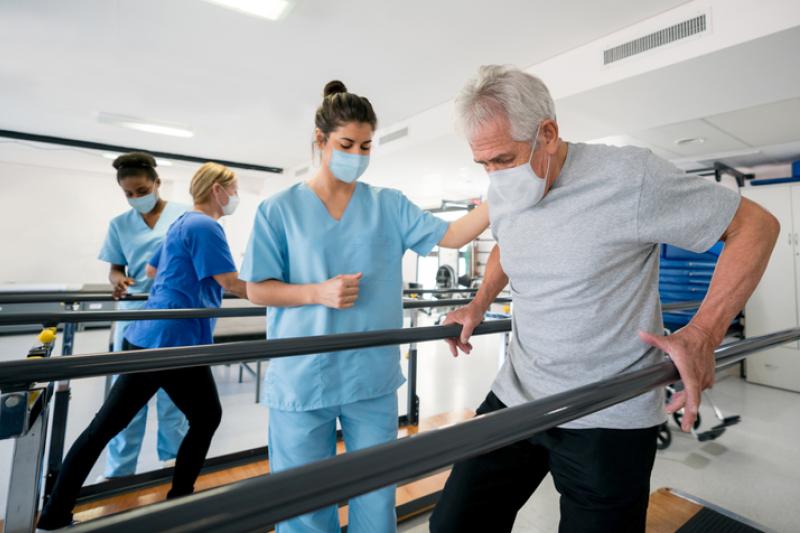 Getting You Back to Your Active Life
Your body is stronger than you know. And we're here to help you heal it with a whole team of sports medicine and rehabilitation experts at your side. Whether you're recovering from an injury or surgery or managing a chronic condition, we'll work one-on-one with you to develop a rehab plan tailored to your unique needs and goals.
Our teams offer a full range of inpatient and outpatient treatments designed to strengthen your body and renew your spirit, so you can return to all the activities that fuel your life. Step by step, we'll empower and motivate you to regain your mobility, strength and independence. Let's get started.
Inpatient Rehabilitation to Help You Heal
When you need a higher level of care, we'll be here with inpatient services that help you begin your recovery with the best support.
3 items. To interact with these items, press Control-Option-Shift-Right Arrow
Excellence in Rehab

We partner with Shirley Ryan AbilityLab (SRALab) at our La Grange hospital to offer you the same acute inpatient care that has earned them the Best Rehabilitation Hospital in America ranking by U.S. News & World Report every year since 1991.

Exceptional Services

We take an interdisciplinary approach that provides comprehensive services, including nursing, psychology, care management and physical, occupational and speech therapies. Our patients participate in at least three hours of therapy five to six days per week.

Experienced Teams

Our inpatient rehab teams at all our medical centers provide patient-centered, evidence-based and values-driven care. Restoring your mobility, health and wellness is our ultimate goal.