UChicago Medicine AdventHealth Hinsdale Opens Hybrid OR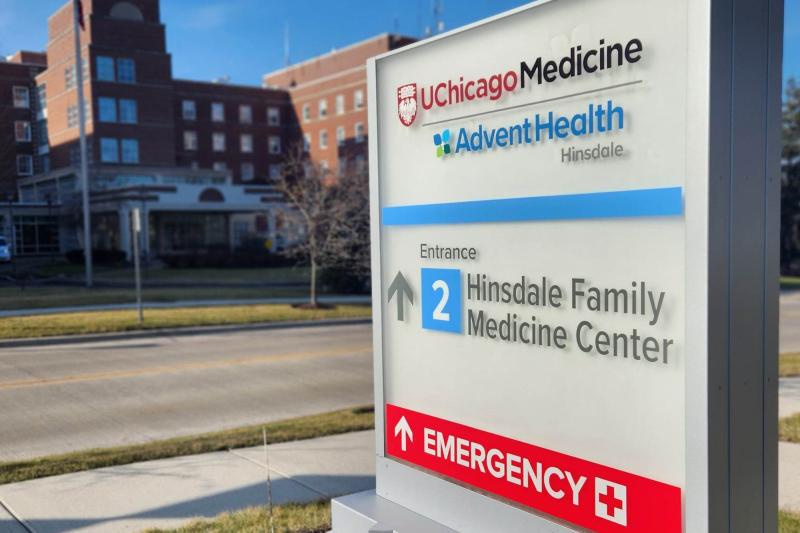 Choose the health content that's right for you, and get it delivered right in your inbox.
UChicago Medicine AdventHealth opened a new hybrid operating room (OR), marking a significant advancement in cardiac care for the community. The hybrid OR is a state-of-the-art medical space that combines the essential features of a traditional operating room with advanced imaging technology. The hybrid OR — designed to enhance patient safety and outcomes — is equipped with advanced diagnostic imaging equipment to enable minimally invasive heart and vascular procedures. This innovative approach enhances precision and effectiveness, providing patients with the latest advancements in heart care. With the opening of the new space, the hospital also unveiled new equipment to perform transcatheter aortic valve replacements (TAVR), a minimally invasive alternative to traditional open-heart surgery. This new technology helps reduce surgical trauma and enhances patient recovery. In addition to TAVR, procedures include electrophysiology, vascular procedures and cardiac catheterization.
"The hybrid OR is a cath lab that can convert to an operating room in case of emergencies. This is much needed in aortic valve replacement, where surgical support can be provided right there at the spot, ensuring an extra layer of safety for our patients," said Dr. Keenan Adib, cardiologist and TAVR medical director at UChicago Medicine AdventHealth Hinsdale. "This allows us to provide the most advanced care available close to home."
The space allows health care professionals from different specialties to treat patients in the same location. It encourages multidisciplinary collaboration among experts, including cardiologists, cardiovascular surgeons, interventional cardiologists, radiology technologists and nurses, ensuring a comprehensive and holistic approach to patient care. Patients can expect shorter hospital stays, reduced pain and a faster return to their normal activities.
"The introduction of the Hybrid OR marks a significant milestone in providing state-of-the-art care for patients with cardiac conditions and continues to advance the transformational care we've been providing to our community for more than 100 years," said Ben Layman, chief operating officer at UChicago Medicine AdventHealth Hinsdale. "Our commitment to innovation translates into improved outcomes and enhanced cardiac care for the local community."
Benefits of a Hybrid OR
Advanced Imaging: Cutting-edge imaging technology enhances precision.
Expanded Procedures: Offers a wide range of cardiac and vascular procedures.
Safety and Efficiency: A cath lab that can convert to an OR in emergencies.
Minimally Invasive: Provides minimally invasive options for cardiac surgeries and procedures.
Shorter Recovery: Patients typically experience quicker recovery and shorter hospital stays.
Recent News
Health Care

Hinsdale Seventh-day Adventist Church welcomes the community to an upcoming event.

Health Care

The Centers for Medicare & Medicaid Services (CMS) has awarded its top hospital quality rating to two UChicago Medicine AdventHealth hospitals in Chicago's western suburbs.

Health Care

AdventHealth honored Midwest Health Board of Directors board member Rev. Ron Hawkins as Trustee of the Year.