AdventHealth Honors Board Member as Trustee of the Year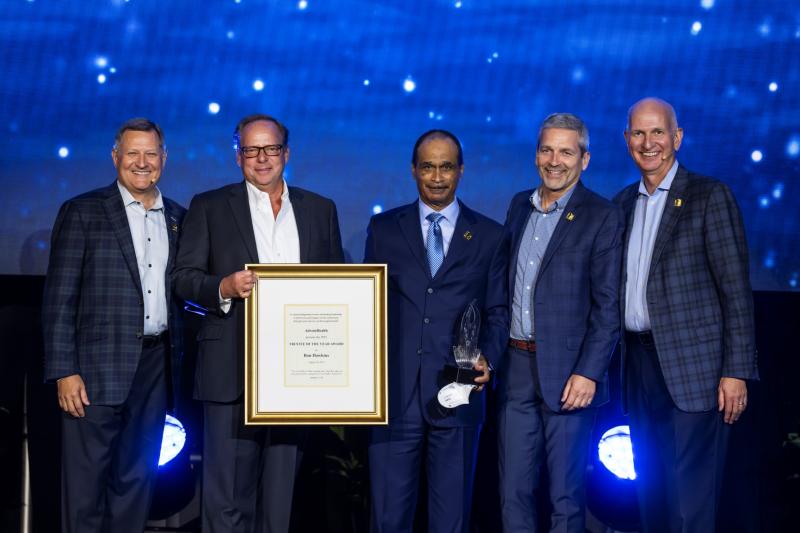 Choose the health content that's right for you, and get it delivered right in your inbox.
Reverend Ron Hawkins, a retired McDonald's executive and longtime member of the Adventist Midwest Health Board of Directors, was awarded Trustee of the Year from AdventHealth.
Hawkins was honored for his deep commitment to AdventHealth's mission of Extending the Healing Ministry of Christ at the four hospitals in AdventHealth's Great Lakes Region (UChicago Medicine AdventHealth Bolingbrook, Hinsdale, La Grange and GlenOaks).
Ken Bacon, president and CEO of AdventHealth's Multi-State Division, presented the award to Hawkins during AdventHealth's recent Conference on Mission in Orlando, Fla. Praising Hawkins, Bacon said that AdventHealth is eternally grateful for "[Hawkins's] natural ability to communicate and his dedication to serving God."
Hawkins began his service to AdventHealth in 2007, when he joined the fundraising committee for the Bolingbrook Hospital Foundation gala event. In 2008, he was named chairman of the foundation's board of directors. He served two terms on the foundation board, was appointed to the Adventist Midwest Health Board of Directors in 2011 and continues to serve on the board today. In 2013, UChicago Medicine AdventHealth Bolingbrook dedicated its chapel in his name.
Hawkins, now a pastor at Center Point Baptist Church in Jackson, Tennessee, said he was honored and humbled to receive the award.
"We have a great board, so it's an honor. But I'm just humbled. As a pastor, I think any award you get is really from God the Father. I don't see myself as anyone special. I'm just a servant of God trying to do God's work," he said.
Hawkins began his career at McDonald's in 1971 as restaurant crew behind the counter. Within two years, he became manager. He continued moving up the ladder, working in every aspect of the business. In 2003, he became vice president and national ombudsman, the first African American to hold this role. In this position, he acted as a conscience to the McDonald's system, and when there was a need, evaluated the application of policies, procedures and fundamental values to reach equitable solutions.
When invited to get involved with AdventHealth, he jumped at the opportunity. "The thing that got me immediately was when I heard AdventHealth's mission was Extending the Healing Ministry of Christ," he said. "My father and his father were pastors, and I was a deacon at that time. Service is what it's all about, so I figured I would try it out. When you have a mission statement of Extending the Healing Ministry of Christ, how can you not want to serve?"
"A lot of organizations say certain things, but they don't act in the way the mission is set out," he said. "AdventHealth does. They are unapologetically faith-based in their actions, and that's why I've stuck with them for all these years."
Hawkins strongly encourages business executives to get involved in service with nonprofit organizations. "I just think it's an obligation for any businessperson," he said. "It not only helps the nonprofit, but it also helps your customer base long term. It helps you in building relationships in the communities you serve, which ultimately is a win-win all around."
Serving with AdventHealth has been one of the most satisfying experiences of his life, Hawkins said. "It is a personal satisfaction that money cannot buy," he said. "Anytime you can do something that's serving a ministry and a mission like AdventHealth has, that to me — in McDonald's language — is the 'secret sauce.'"
Recent News
Health Care

Hinsdale Seventh-day Adventist Church welcomes the community to an upcoming event.

Health Care

The Centers for Medicare & Medicaid Services (CMS) has awarded its top hospital quality rating to two UChicago Medicine AdventHealth hospitals in Chicago's western suburbs.

Health Care

UChicago Medicine AdventHealth Hinsdale opens new hybrid operating room, allowing for minimally invasive surgery in emergencies and multidisciplinary care.