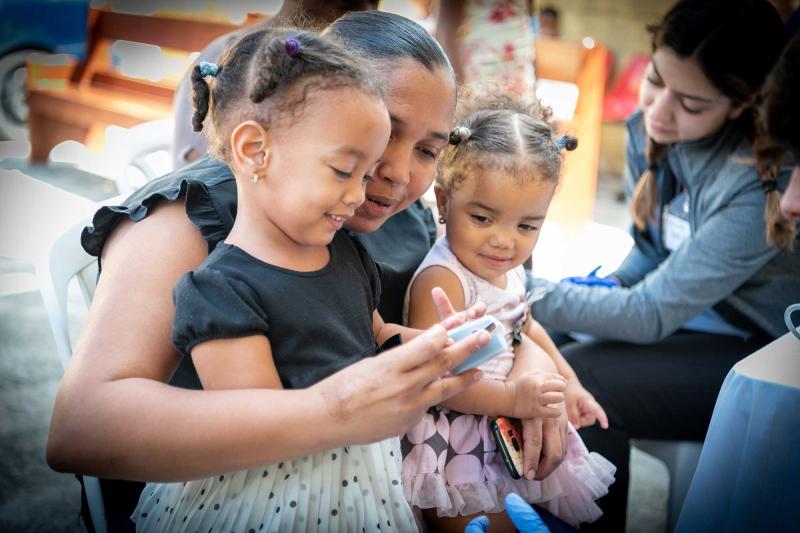 Choose the health content that's right for you, and get it delivered right in your inbox.
On Monday, we set up our clinic in a local school, for children between the ages of 7 to 15, very similar to a middle school. We saw a lot of patients with headaches, likely due to dehydration, allergies, asthma, arthritis and shoulder pain. We saw newborn twins and colicky babies. By the end of the day, we treated 289 patients.
We were short five interpreters, so team members who could speak Spanish were pulled in multiple directions. Jennifer Franco, Marina Ramos and Lupe Connor stayed very busy, and Heleine Kaha got pulled from her area to interpret for a physician.
Kaha connected with several of the young girls from the school. She told them she grew up in Cameroon, West Africa, so they have similar backgrounds, and she encouraged them to stay in school and get an education (and to stay away from boys!) The girls giggled and took selfies with her.
"The one word I learned today is 'de nada' (you're welcome), because everyone kept saying 'gracias' over and over," said Denise Jaworski, one of the pharmacists.
One woman came to the clinic with symptoms of dizziness, feeling faint, palpitations and heavy periods. Dr. Rema Johnson could see that her conjunctiva (the lower inner eyelid) was white. We tested her hemoglobin and it came back a four. In the U.S., anything less than seven would require a transfusion. We couldn't do that here, so Johnson improvised and gave her iron supplements and hormone replacement.
"The beauty of these trips is that it brings you back to treating patients clinically and not relying on lab work," said Johnson. "We're able to show the residents and clinical team things we might never see at home."
Another man came to the clinic on crutches. He was 46 and he said he was thrown from a bus several weeks ago and badly fractured his ankle. He went to the hospital, but it was overcrowded, and because there is only one orthopedic surgeon in the area, he hadn't been treated after two weeks. He got frustrated and left.
In the U.S., this man would have had emergency surgery. Because the bone is starting to heal now, there is nothing we can do. Dr. Gary Lipinski took care of him, gave him some medications and referred him for follow up care. The local doctor who is helping us this week said the hospitals would likely turn him away now since he had left before.
Our physical therapist, Sue Freiburger, spent some time with the man, properly fitting his crutches and teaching him how to use them. She taught him how to get up from a chair using crutches and how to go up and down stairs. No one had given him any instructions before.
Dr. Sameer Sohel, a resident from Hinsdale (pictured left), performed his first knee injection under the supervision of Johnson. The mantra here is "see one, do one, teach one," so Sohel watched as Johnson showed him how it is done. "On his first attempt, he had some difficulty getting it in the knee joint and needed some assistance," Johnson said. "But on the second attempt, he learned to take more time to review the anatomy and he found the landmarks and was successful. Everyone clapped for him." He will teach another resident how to do one tomorrow.